Centennial Excellence Award for Escolarian in Community Pharmacy
Locoomago Pty Ltd
Sept 24, 2022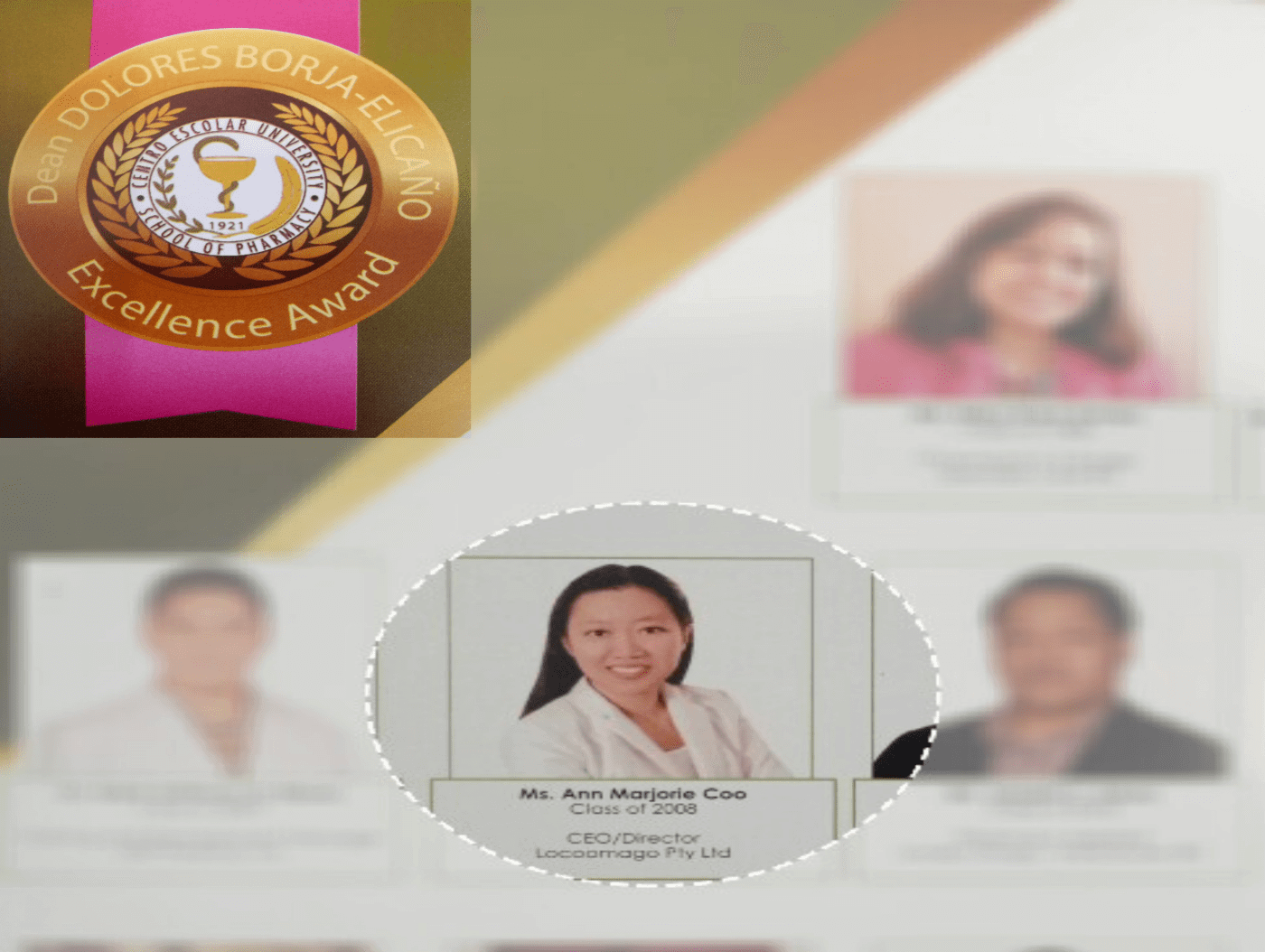 The Centennial award comes every 100 years. In this century, very few people would be lucky enough to live up to a hundred years. Hence, being awarded a centennial award is truly an honour and an ultimate professional achievement one could be proud of.
I am deeply grateful to my alma mater Centro Escolar University (CEU) for trusting me to help my fellow Escolarian to achieve their dreams and to be given this prestigious award.
Centro Escolar University is the leading provider of globally competitive and professionally competent Filipino pharmacists in the Philippines. Moreover, CEU's school of pharmacy has the following distinction:
The FIRST Pharmacy Program in the Philippines certified by ASEAN University Network - Quality Assessment (AUN-QA)
The FIRST Pharmacy program granted the HIGHEST LEVEL of accreditation, Reaccredited Level IV, by Philippine Association of Colleges and Universities Commission on Accreditation (PACUCOA) as certified by Federation of Accrediting Agencies of the Philippines (FAAP)
Top Performing School in the Pharmacist Licensure Examination
Top provider of licensed pharmacists
Founding member of the Philippine Association of Colleges of Pharmacy and Asian Association of Schools of Pharmacy
The First university to offer the "Doctor of Pharmacy" degree in the Philippines
Any foreigners or Filipinos looking forward to be a pharmacist whether in the Philippines or overseas should put CEU on their list if they would like to study in the Philippines. The school has 3 campuses, one in the busy capital of the Philippines in Manila which is the main one, another one in Makati which is the business capital of the country and one in Malolos, Bulacan.
I could certainly remember fondly the memories back in those days where I would look forward after a long day to eat in the kiosk inside the Manila campus where we call it "lata" for some reason means a "tin can" as the kiosk looks like it just as the Melbourne train is like an aluminium tin can.
I can't be more proud to be an alumna of the university, having its name embedded in my being wherever I go, to those professors who have taught me not just the academics but all the ethics and morality to be the best person who contributes to the society and have an impact to the life of each of my patients, I would like to extend my gratitude to all of them from the deans of the school to the professors, the instructors, laboratory crew to everyone who makes each and every CEU pharmacists' dream a reality, a big thank you from the bottom of my heart.